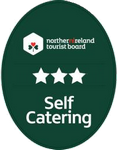 At Rectory Lodge Trout Fishery we have an excellent 3 Star Self Catering Cottage for your accommodation. You can take advantage of this quaint little cottage for your fishing holiday, or perhaps even if you are just visiting the area on a sight-seeing trip or meeting up with friends and family.
The cottage will sleep up to 8 people comfortably, with it's own kitchen and living area to relax in. There is an upstairs bath and a downstairs shower.
All doors are Wheelchair accessible to Tourist Board Standards.

£50 Deposit is required to secure any bookings.
Other Facilities include:
FULL FUNCTIONING KITCHEN
CENTRAL HEATING
WASHING MACHINE
TUMBLE DRYER